Your case may be challenging or difficult, but getting started with Legal Images is easy. It all starts with a simple hello.
Say hello to Matt
customer liaison extraordinaire. Whether you need a few display boards, a trial presentation expert or an on-site, round-the clock war room production staff, he's the person to talk to.
All cases large or small are overseen by our in-house master storyteller, Steve Hess, and serviced by our team of experts to help you achieve the most favorable outcome. From concept to courtroom we'll help you strategize, visualize and present your case in the most compelling and persuasive way.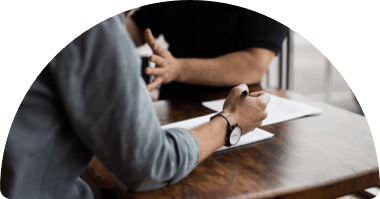 We've worked on over 700 cases for some of the world's largest companies and law firms. Our experience and the creative talent at Legal Images is in a class of its own.
Storytelling
Legal Images team of talented visual communication designers have decades of combined experience creating visually engaging and persuasive graphics for a variety of legal applications. When it comes to creating persuasive visual designs for litigation, Legal Images is unique.
See What We Have Done So Far
Testimonials
Foley Hoag
Boston
ICC arbitration
"Client is thrilled and was very pleased with the entire team's contributions, which includes your firm. … Thanks for all your great work!"
Stern Tannenbaum & Bell
NYC
Major defense verdict
"The jury sent out a note asking if they could award costs, damages, and punitive damages against the plaintiffs. Sweet justice."
Blank Rome
Philadelphia
Case of National Significance
"we enjoyed the experience too. We'll look for another opportunity to work together."
McCarter & English
"Please let this email serve as an e-introduction to my excellent NY colleagues .… They have a trial coming up in early September in NY Supreme and have a need for trial graphics and hot seat operator assistance. I told them that you're the guy."
Gibney Anthony & Flaherty
NYC
Presentation
"You did an excellent job. The video captures exactly the content we want to portray to management and the sales force. We are very pleased with the result."
Wilk Auslander
NYC
"You and the rest of your team are the ones that deserve the thanks. This was our first time working with this technology and you made it very easy for us." – Won a nearly 100 million dollar verdict
Quinn Emanuel
NYC
"I know that I will definitely be recommending your team."
Stern Kessler
Washington, DC
"Thank you for all of the hard work. We had the better presentation. Our presentation (graphics/work product) was much better than that of the Bad Guys."
Burns Levinson
Boston
IP Trial
"I have worked with these guys from a past case and they did a great job."
Kramer Levin
NYC
Bankruptcy Trial
"Harry was great! Presentation was fabulous! Our opponents were jaw dropped."